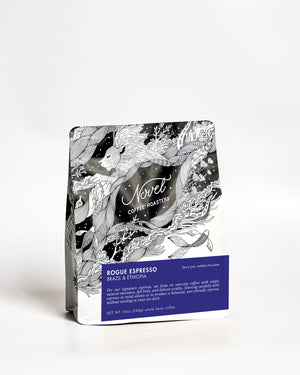 Rogue Espresso
Sale price Price $15.00 Regular price Unit price / per
Rogue is our flagship espresso. For this blend, we focus year-round on sourcing coffees with a ton of natural sweetness, full body, and delicate (not overwhelming) acidity.  Sourcing carefully with espresso in mind allows us to produce a balanced, user-friendly espresso without needing to roast too dark.  A shot of Rogue should taste like berry jam and melted chocolate with a lasting clean finish.
To prepare Rogue, we generally dose 17-18g.  We find a 1:2 ratio (34-36g out) to be quite versatile in steamed milk or straight up. If you are looking for extra clarity in your straight espresso, a 1:3 brewing ratio makes a less concentrated espresso that reveals additional complexity and sweetness. If it's possible to adjust your boiler temperature, we recommend setting it to 196ºF.
Subscribe!
Enjoy Rogue Espresso delivered directly to your mailbox as often as you'd like. Adjust your bag size, quantity or order interval, and even pause, resume or cancel your subscription directly through your account. Be sure to register your account when you've finished signing up to access your subscription settings.
Need your order ground?
Yes— we can grind it for you! 
Drop us a note at checkout requesting ground coffee, and include your preferred brew method and brew time. 
This will help us dial in the perfect grind size for you.
The coffee is ground on our top of the line Mahlkönig EK43, which produces spectacular grind evenness and helps your coffee extract more fully and consistently.
Want to learn about rested coffee? Click here.
Shipping Schedule
We roast on Monday and Tuesday and ship USPS priority. Orders placed after Tuesday will be filled immediately if we have the coffee on hand. Otherwise, your order will be roasted & shipped the following week.